For every website designed with WordPress, there is always a mobile version available on the site. According to a study, mobile traffic will increase 60% of all the traffic received by the internet. The web world is moving towards the mobility and that increases the chances that the traffic towards your website will be mobile driven.
It may be a responsive app or may be a native app. Every WordPress development company should understand that it is important for many organizations only to have a mobile presence in order to maintain the online presence of the site in Google's search engine rankings. A WordPress website can be made as mobile-friendly as possible.
Mobile Apps provide an opportunity to the users to connect to the website with a high significance on a customized feed than using a browser. Especially for an e-commerce website, a mobile app can create a positive impact on the mind of the user which help the seller to generate sales. Mobile Apps increase the chances of higher competition within the businesses.
Even after knowing such importance of mobile app for our business, we do not want to spend any extra money to create an app for your website. And some of us, if want to make the app, we have certain hindrance such as lack of enough resource. You may know the famous alternative to building phone apps, PhoneGap framework.
It makes use of the technologies such as HTML5, CSS3, and JavaScript and builds the portable app for Android, iOS, and Mac. But PhoneGap is not free for the iOS version of the app. One need to register for an account to host the iOS app.
So, WordPress introduced their own solutions to our such problems. It has certain WordPress plugins which would help you transfer your website into a mobile app. Yes! You can transfer your WordPress website into a mobile app without coding or complex frameworks.
A website transferred into a mobile app can be accessible on iOS as well as on Android, so this can be a reason for great saving for those who do not want to spend any money on developing a mobile app for the website.
Let us learn about few of them!
IdeaPress
IdeaPress is a great solution provided by WordPress to transform the website into a native app. It provides a wonderful app at a very affordable price. The building process can be operated totally on the IdeaPress website but it is necessary for you to install a plugin that provides JSON API to access the content for the building process as well as the app.
It is easy to customize the app made with IdeaPress and provides various customization options such as color selection, the format of the home page and decision regarding which of the categories as well as pages to be included in the mobile app. It syncs automatically with the WordPress website and allows post and comments made by the readers to be transferred without any trouble. It saves time and money as it builds the very less time. It brings your content to the mobile in a different and attractive way that you are forced to explore the content with a unique touch interface.
MobiLoud
MobiLoud is a superior WordPress Plugin used to convert a website into a native mobile app. Initially, after installation, the plugin allows certain basic design modification, but after further configuration like adding items to the app menu, push notifications and many other home page decisions are available via a second menu option. It does not have HTML5 app option. It is fully native and offers faster interface than any other. It is deeply integrated with WordPress and therefore makes the entire process of transformation faster. It also offers professional advertising and analytics solutions along with the push notification services. The final result is clear enough and is ready to work with no difficulty on Android as well as iOS.
WiziApp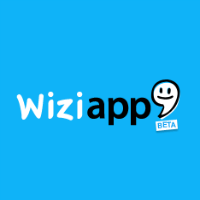 WiziApp is again a competitive app transformer with the bonus of HTML5. It is the plugin which starts the process of transformation immediately after the installation and can take several minutes depending on the size of the website. It contains a progress bar for you to track the entire process. It lets you use the responsive theme of your blog to generate a mobile app. Along with push notifications, Wiziapp can convert your blog into a native app. The immediate process happens due to the presence of HTML5 which makes the activation faster. WiziApp is a great option for those who require only one website to be transferred into an app, as it is not a multisite compatible plugin.
AppPresser
AppPresser is a leading app in WordPress used to transfer websites with WordPress development into a native app. AppPresser is the most preferred plugin whether the website is from any niche news, magazine, blog or e-commerce. It is the oldest plugin introduced to transfer website into a mobile app. It is based on PhoneGap by Adobe and offers complete integration with WordPress. It offers access to the backend, photo upload, BuddyPress integration and many more familiar WordPress features.
 Worona
Worona is the finest solution for those who are looking for superior services at lower rates. It is mainly used to transfer blogs into apps. The only cost of using Worona is to publish the app on iOS and Android platforms respectively. It supports multiple extensions in order to increase the functionality which includes Enhanced List, Push Notifications and rating of the app. The app generated with Worona supports Android & iOS operating systems and works well with smartphones and tablet both. Worona's team is working to offer trendy themes which will enable you to customize your app.
 MobApper
Making a website responsive is the only task you need to do when you want to transform your website into a mobile app with MobApper WordPress Plugin. Once your website is responsive, MobApper can easily convert your website into a mobile app. No programming languages required. Along with Android & iOS, MobApper can also generate an app for Windows operating system. The app built with MobApper supports fast and intuitive app interface and also supports enabling content in offline access.
Hence transfer your WordPress website with the help of any of the WordPress Plugin and save your time and money along with higher sales!
Author Bio

The author is Harshal Shah, CEO and founder of Elsner Technologies – Wordpress development company offers WordPress Development, Magento development, and SEO Services in the USA. He is a tech evangelist with a reputation to provide optimum solutions for business automation and solving real life problems with the power of IT.
Latest posts by Harshal Shah (see all)